Acura Cluster Concept Design
Honda Sponsored Project
Worked in a group of 3 people(one Transportation student, one Interaction student, and one Graphic student)  in Honda Sponsored Project class. Designed interior concept for 2035 Acura Sport Sedan, and my focus was working on the cluster concept UI design. 


Current Acura cluster UI design doesn't have strong visual language of Acura. Too much unecessary informations on cluster can be visually distracting while user is driving.
What is the identity and visual language of Acura?
Does it match with our interior concept?
How I can apply that to UI deisign in a futuristic and unique way?
How it could be minimal but still has sporty and luxury feeling together?
How do I want to make it different from current Acura UI design?
Still readable and understandable UI?
On cluster, we tried to get rid of too many informations/features and thought about what are the priorities have to be on the cluster. We thought that too many features on cluster UI require a lot of interactions and that means those interactions possibly need to be happened while driver is driving. 
User test with early wireframes
From user test with early wireframes that have different layouts, figured out the layout that users feel stable and has clear selective attention (first-second-thrid read).
People

don't want to spend time to read/understand

what's going on on interface especially when they are driving. They want more simple visual to

recognize everything at a glance.

Speed

should be the one most recognizable

Center

is the most recognizable area
People want simple and easy interaction not only for the UI but also hard buttons/knobs (especially while they are driving)
People who enjoy performance driving want to feel

traditional speedometer

For the sports mode, driver focuses on cluster UI a lot more than any other screens in the car.

What are the primary things driver needs to see on cluster UI? - music, speedometer, battery, brake gen and etc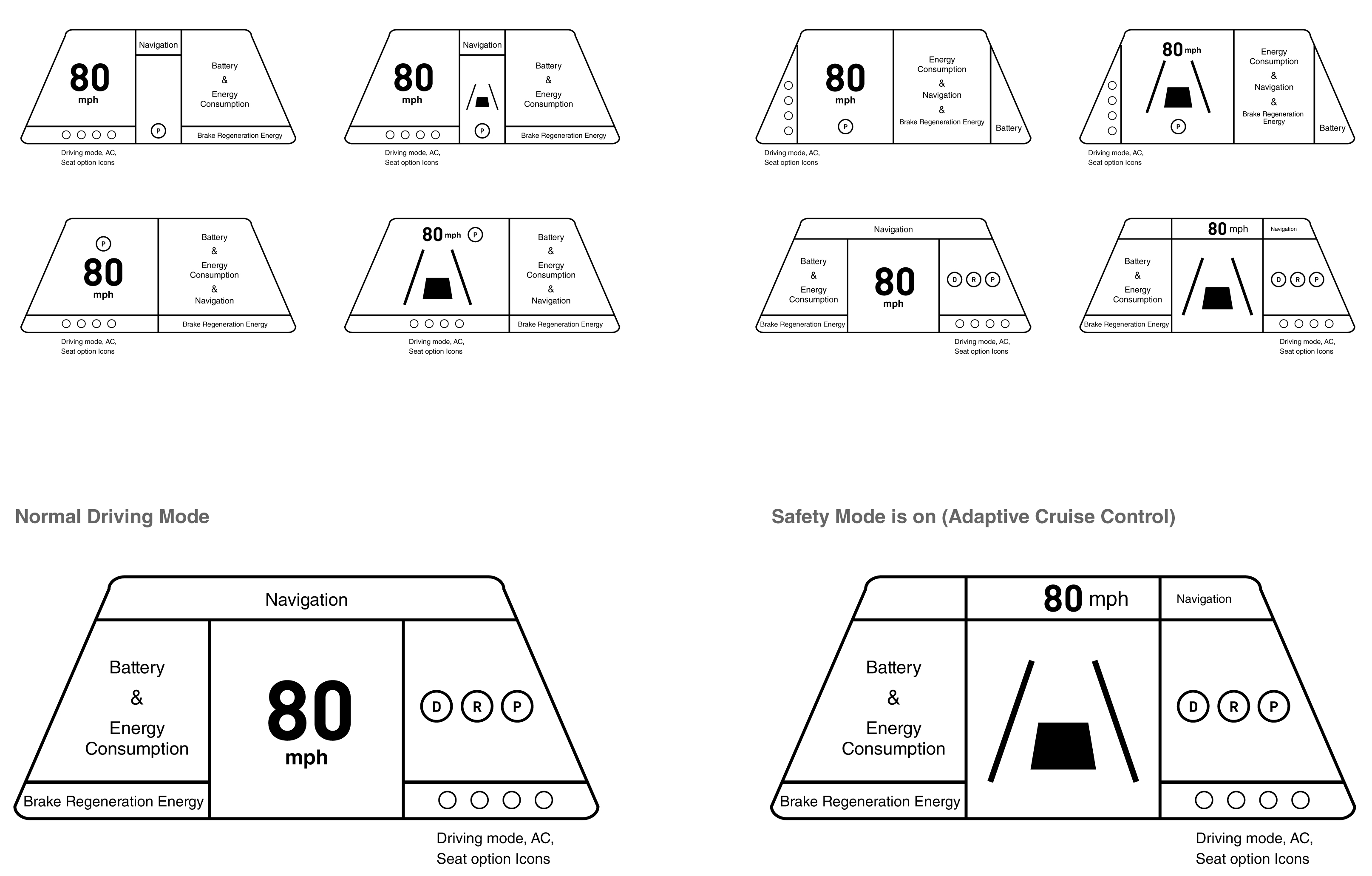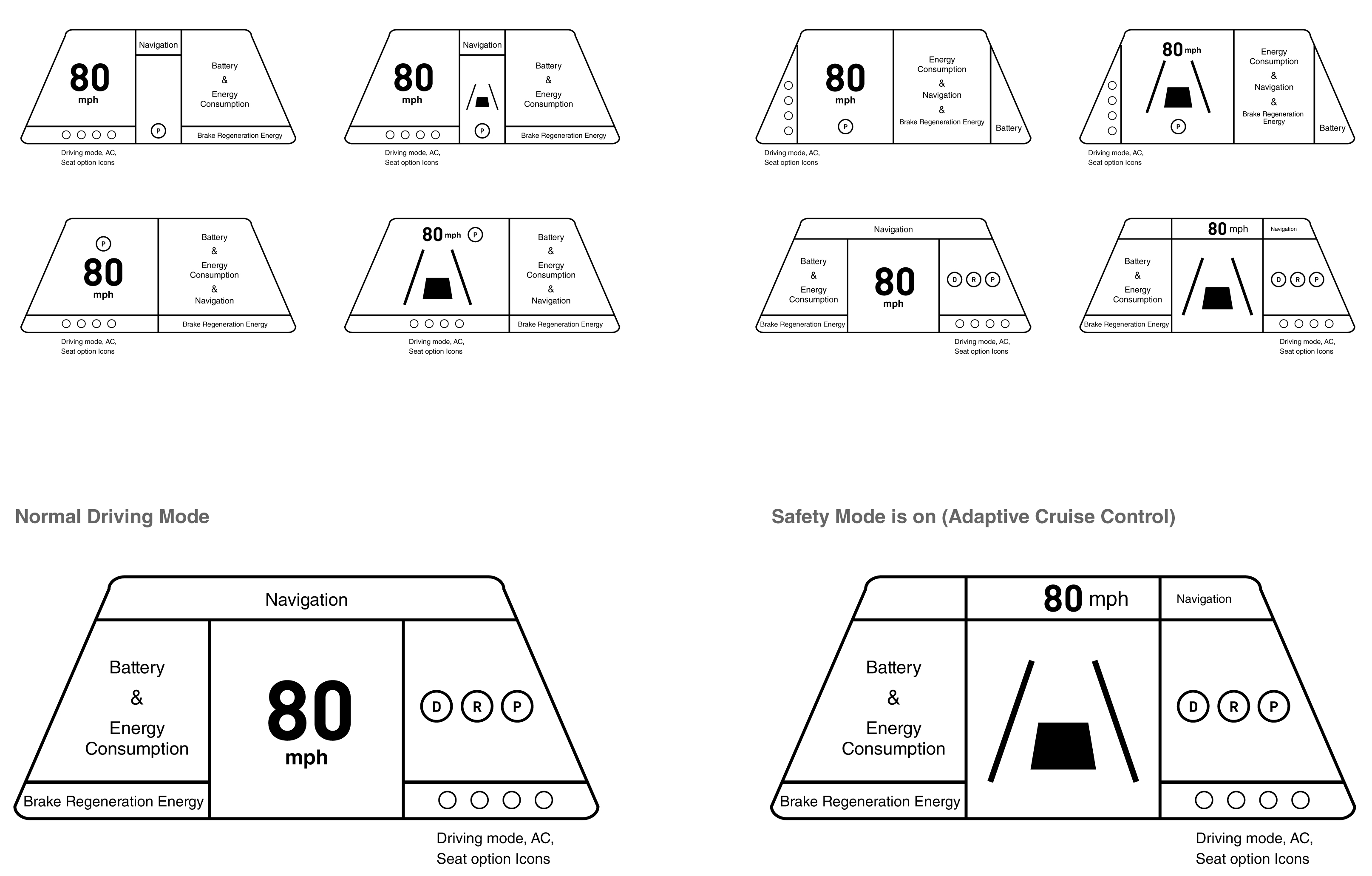 Since it's an electronic car, energy consumption and battery status can be important information that driver needs to keep seeing it. Also, safety feature such as Adaptive Cruise Control is really helpful information for driver not only for autonomous driving but also when driver is actually driving. For sports mode, it's the time that driver is focusing on driving and enjoying it. Because of that, sports mode focuses information related to performance more and it also shows navigation and music palyer so driver doesn't need to keep looking at center console interface while he is enjoying driving. Also planned visual transmission between normal driving mode and sports mode.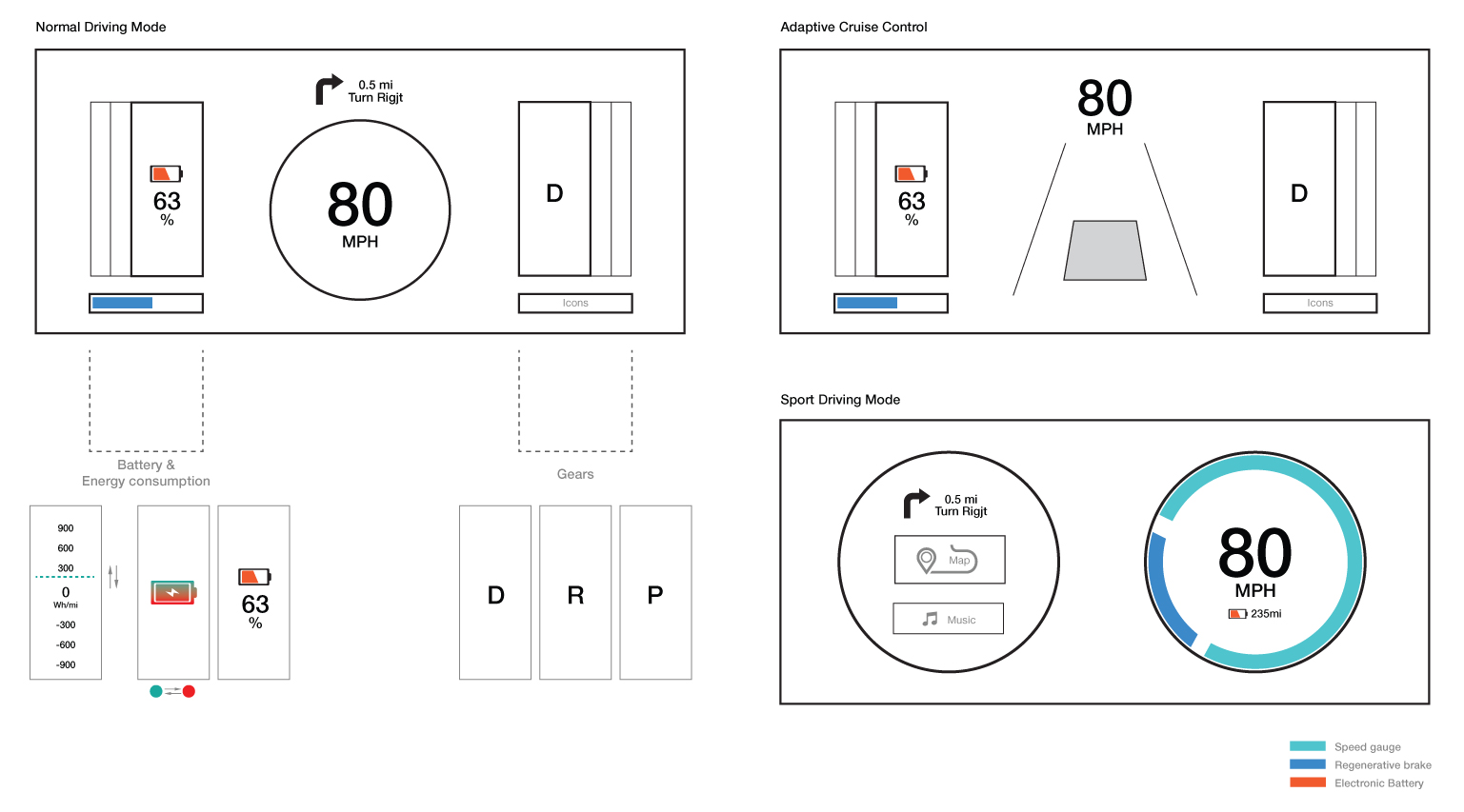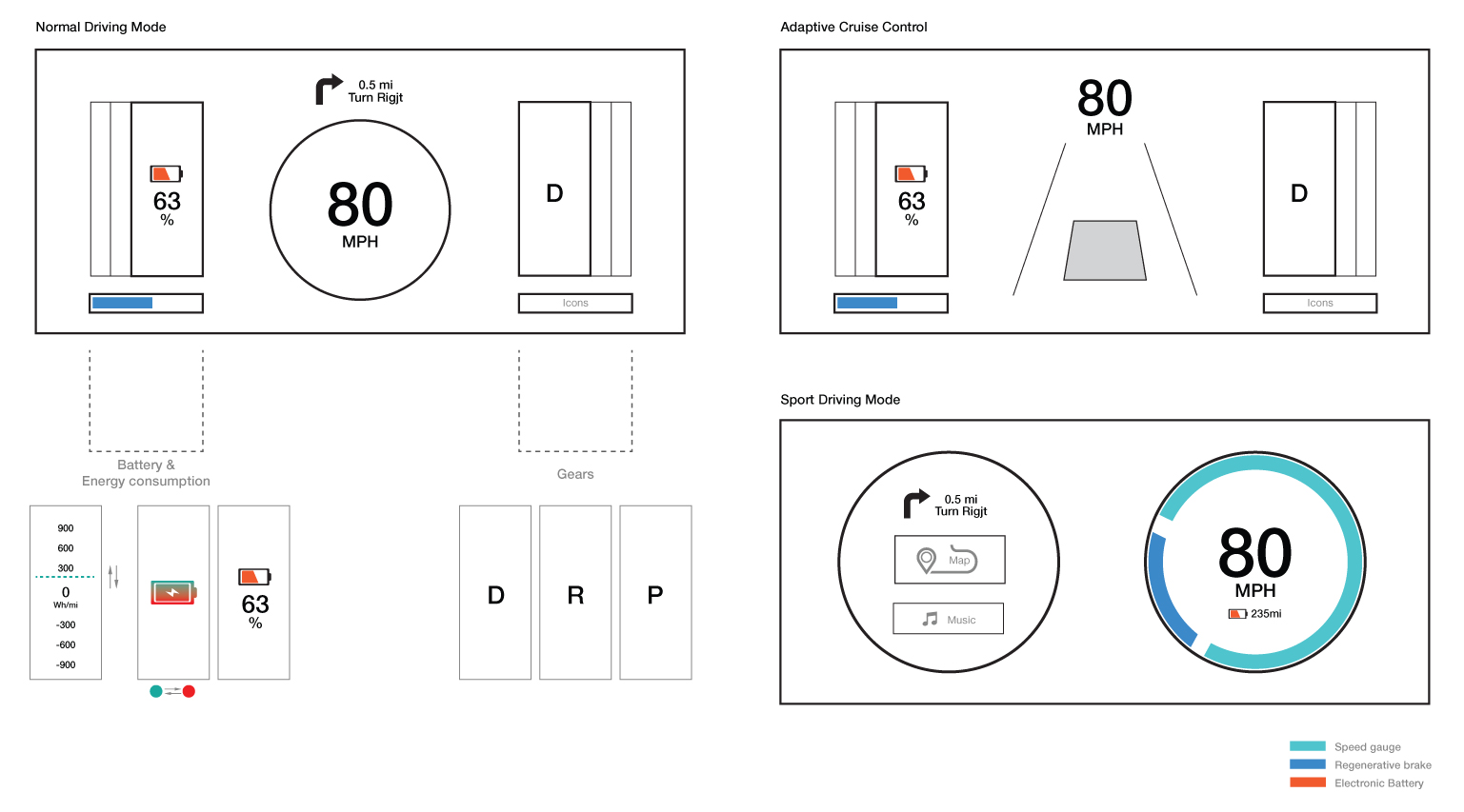 SHAPE STUDY & ICONOGRAPHY DEVELOPMENT & PRE-DESIGN STUDY
Shape study from Acura car (both exterior and interior) has been done before develop iconography or actual design to study what is a visual language of Acura; a lot of geometric and sharp shapes and diamond patterns. After shape study, based on that, iconography was developed using those visual language. Before start actual design of cluster, pre-design study based on shape study was really helpful.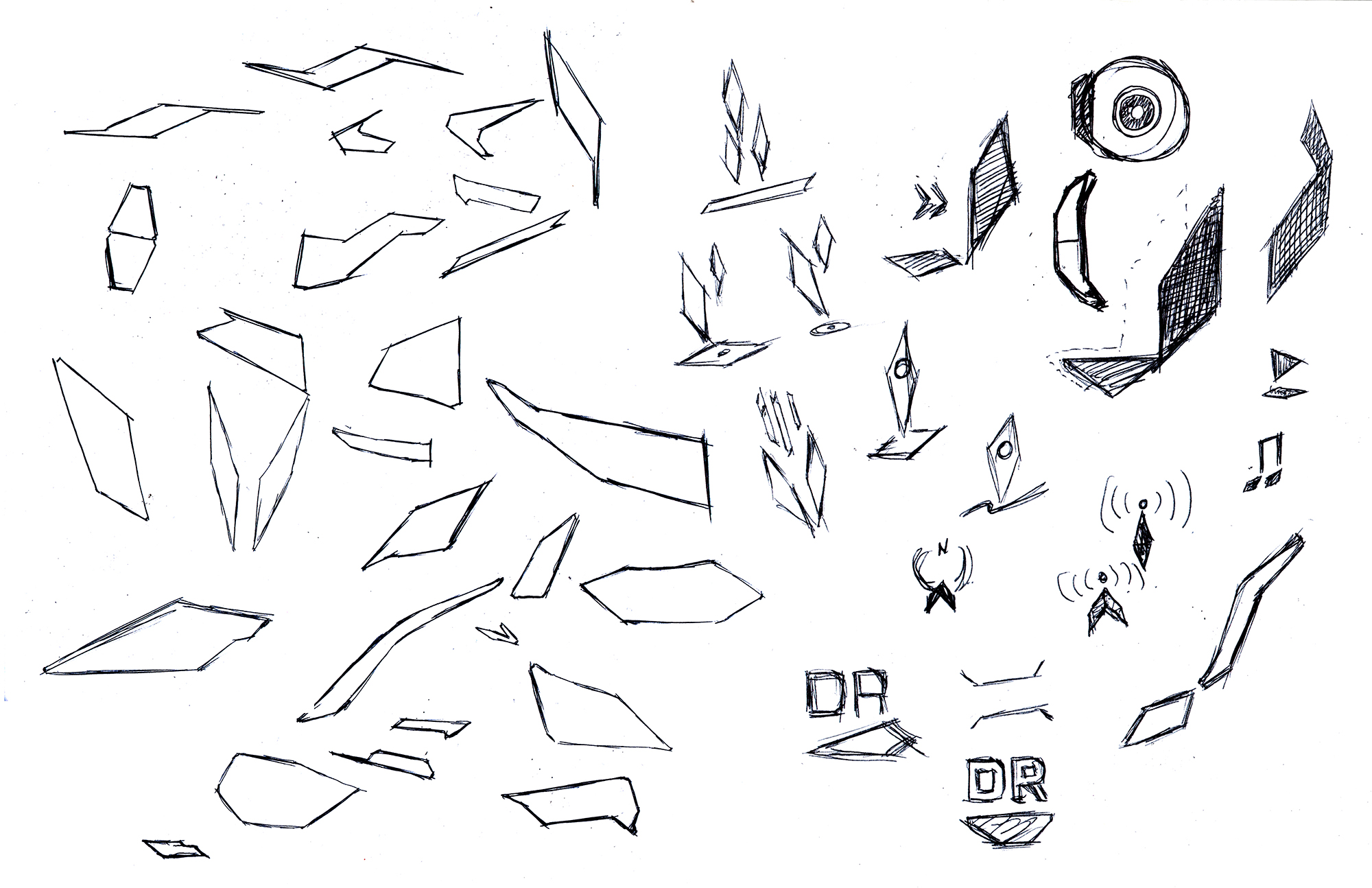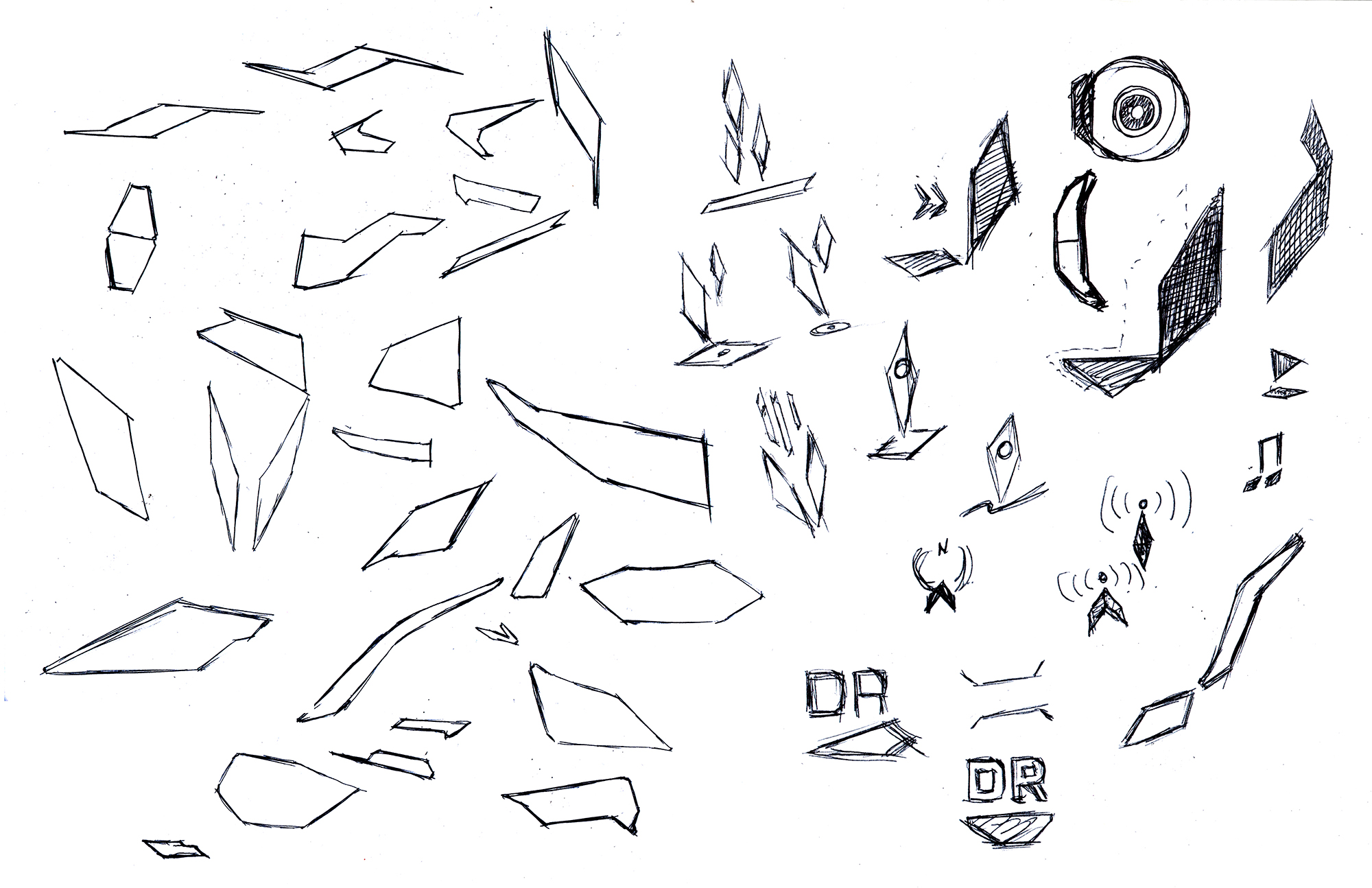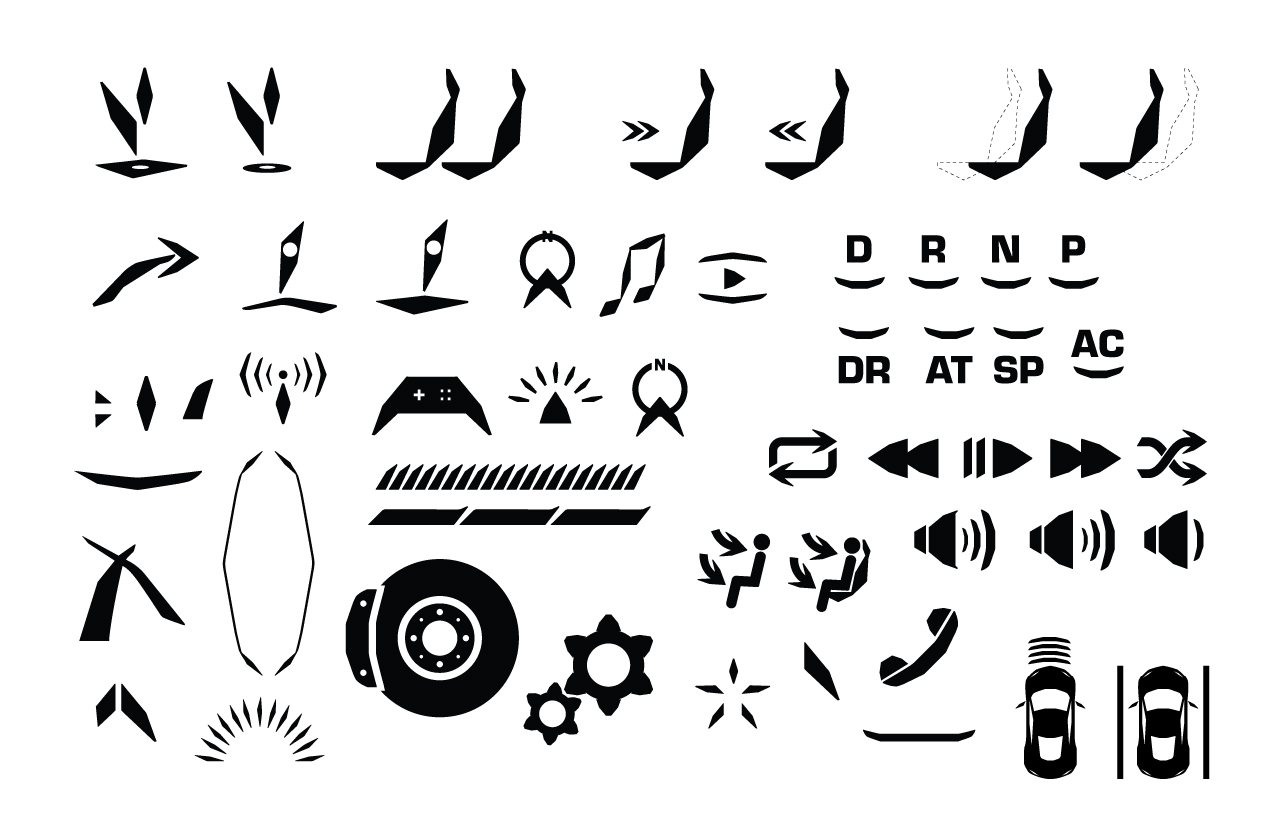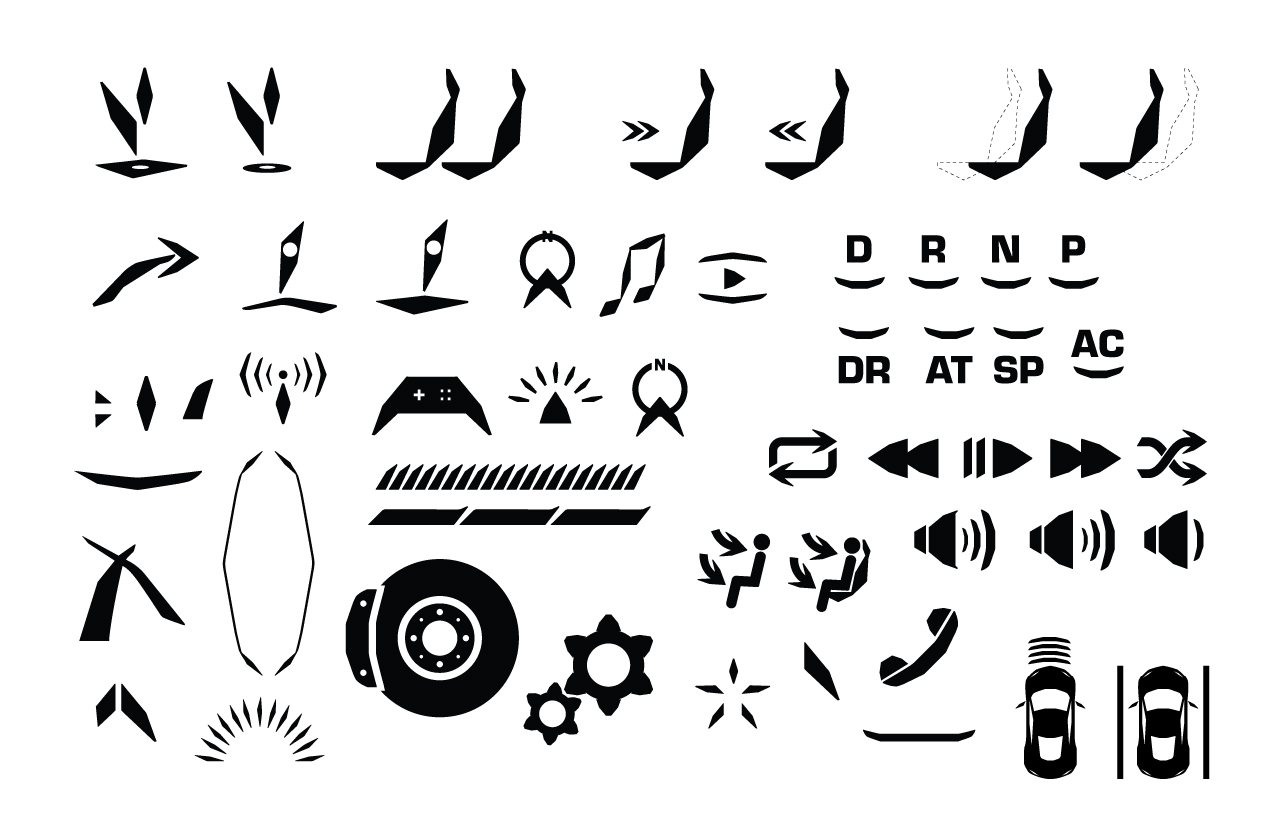 For final design, there are a lot of lighting effects and motion effects are going on. Using shapes from shape study and from pre-design study, we came up with several types of final design solutions and chose one from that. Because of it's luxury sports car for 2035, we tried to design it has a feeling of futuristic, luxury but sporty at the same time. For the color choice, focused on red & blue tone of colors that Acura uses a lot for their project. However for blue color, we chose blue that is closer to the green to make it less tiring to look at it everytime for user so their eyes don't get tired fast. The original blue that Acura used a lot for their car and red both are really strong and primary colors on color chart, so if driver keeps looking at it all the time, it can be easy to get tired. 
Normal Driving Mode (Adaptive Cruise Control is on)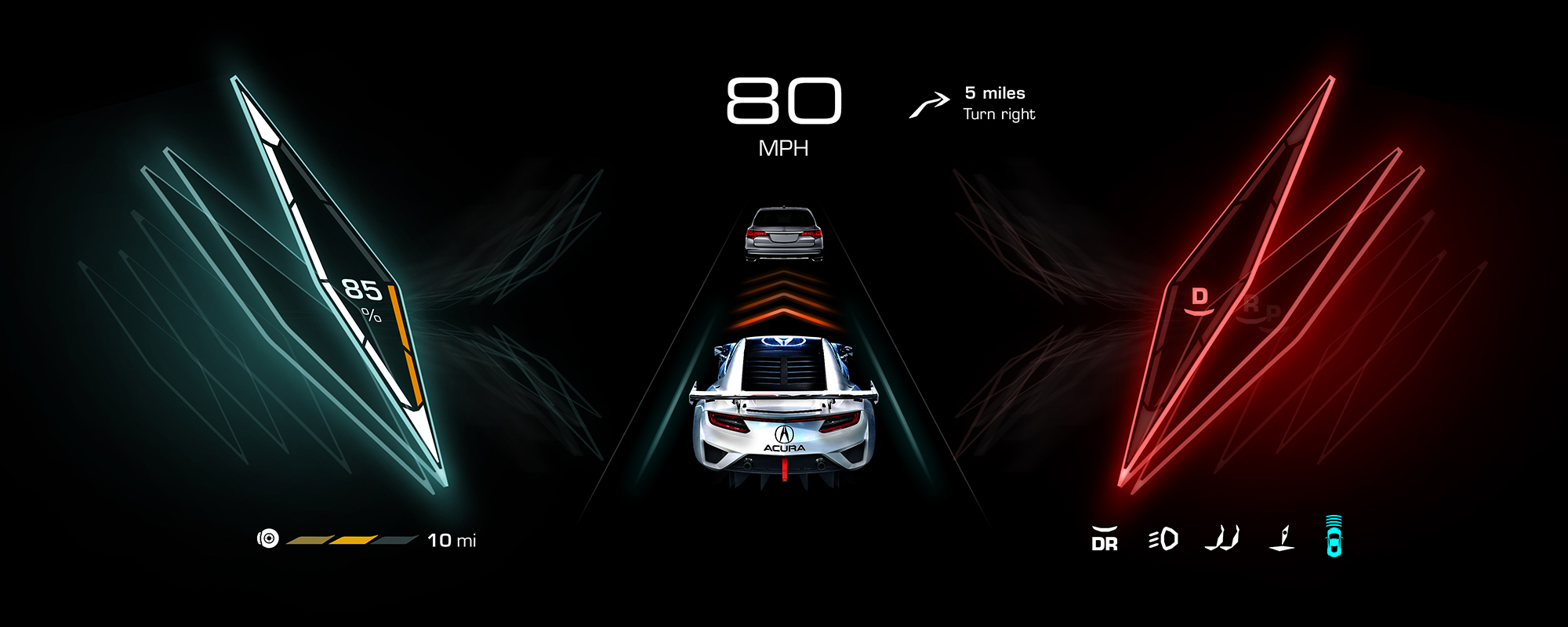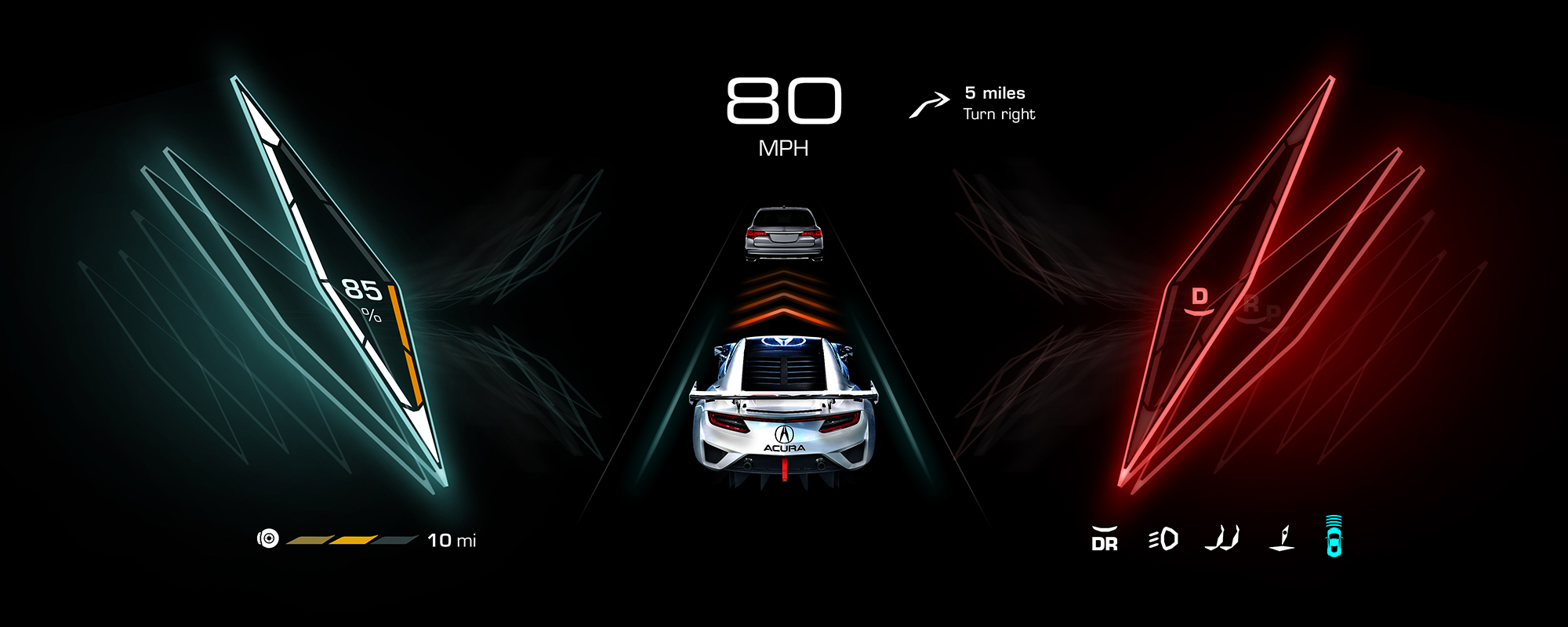 While we are talking to people who love to enjoy performance driving, found out that many of them like to see traditional format of speedometer/gauge which is using circular shapes because they feel more traditional way of actual guage. Therefore, there is a big transformation happening visually between normal driving mode and sport mode. (video following next shows transformation)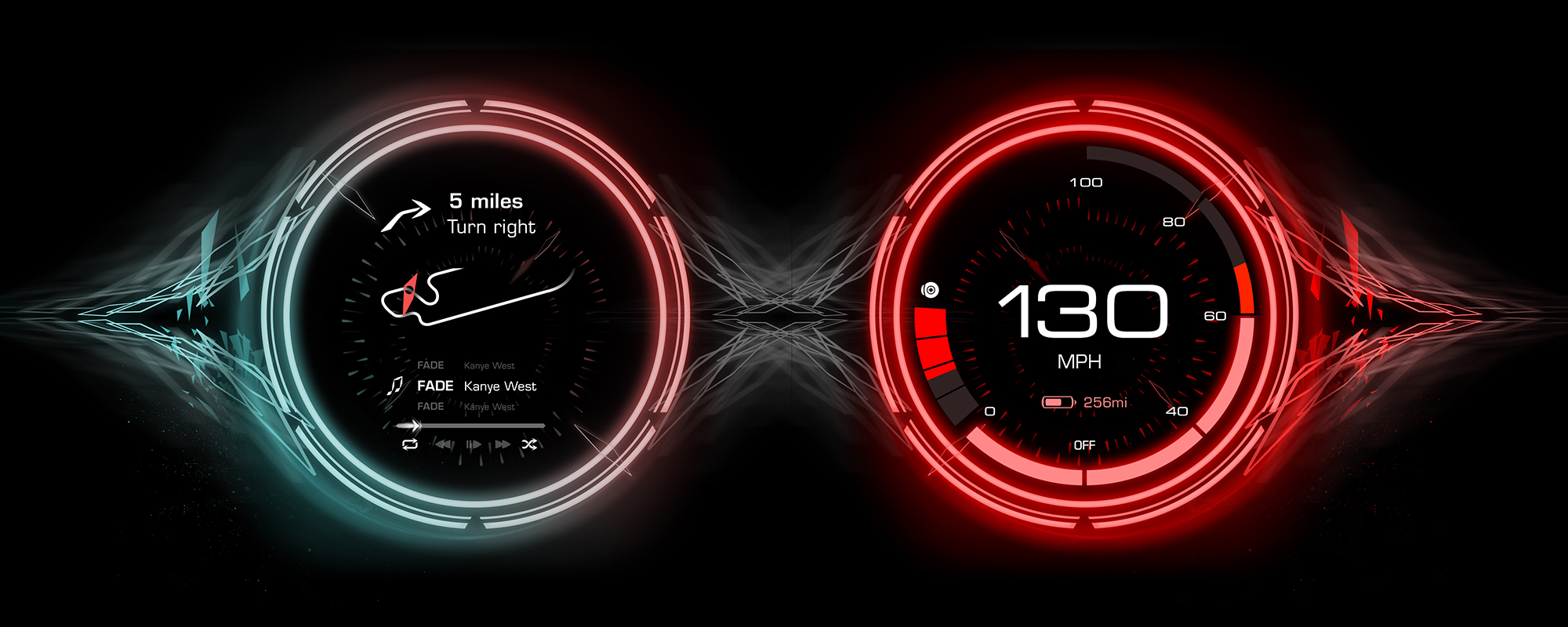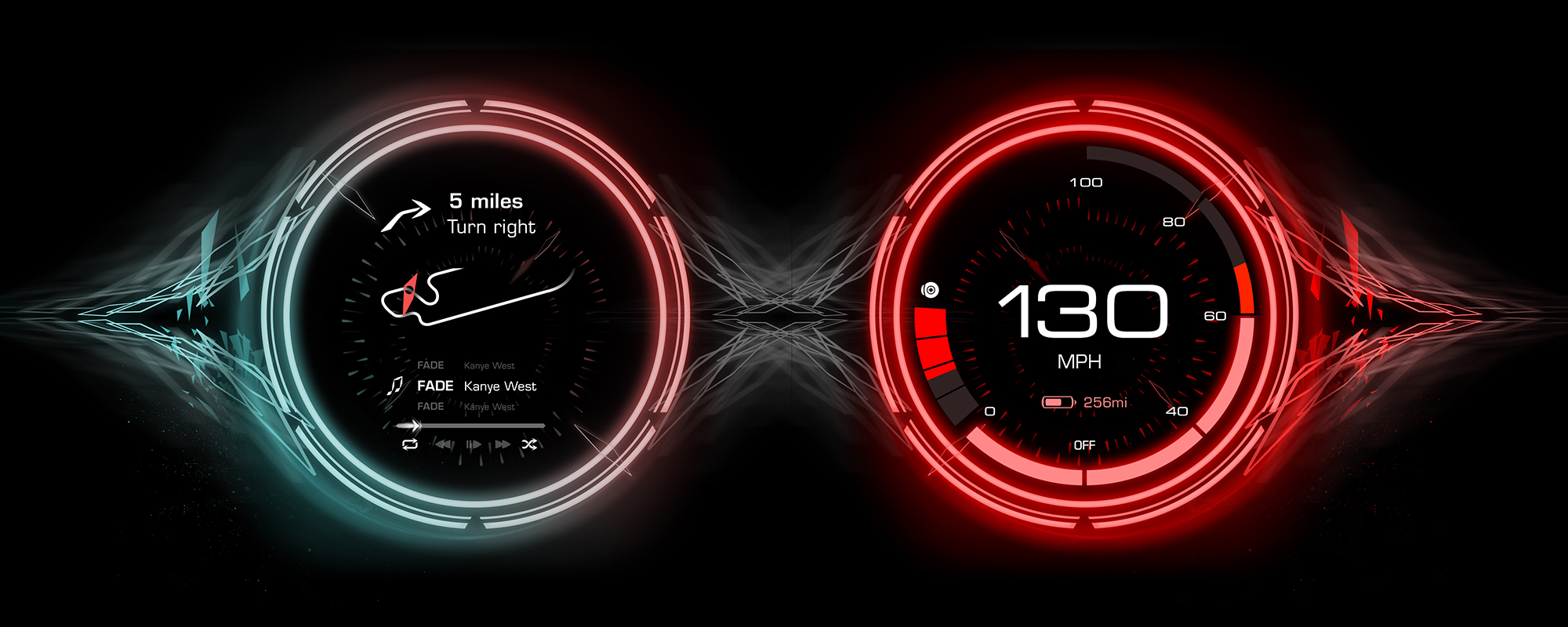 FIANL DESIGN PROTOTYPE (VIDEOS)
Sports Mode (Transmission From Driving Mode to Sports Mode)
The materials used for the cluster behind of the steering wheel is a flexible and also projectable fabric material. For Normal Driving Mode, it's staying as flat but for Sports Mode, two circle shapes retracks back with the fabric so it creates 3D space and adding more depth and performance feeling.